Redecorating?
We all love the life of luxury and a good splurge every now and then.  With Spring on its way, what better than to freshen up your home with fun, light hearted assortments that will fill your home with a breeze! We've chosen some of our favorite spring decorating ideas from One Kings Lane to make your vamping simple & custom.
The Pillow
Where you rest your head is by far one of the most important rooms in the house. Make your bedroom a place of comfort and a statement all your own.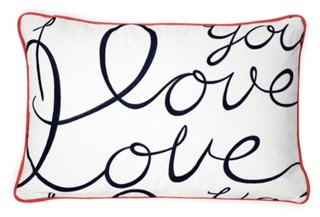 Custom Lulu DK Pillow
from: One Kings Lane
This pillow says personality. WE all love to be loved, so why not remind ourselves each day with scrolled flirty penmanship?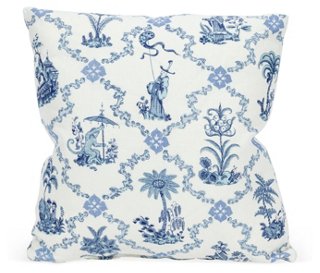 Crisp Blue & While Print Pillow
from: One Kings Lane
Fancy and petite, this pillow gives a hint of classic Victorian. GO ahead, make yourself a cup of tea and bustle your white linen duvet for comfort and pleasure. Blenko Vase
from: One Kings Lane
This ombre green vase is a good investment for a modern home and with some sticks of bamboo you can sail away to your tropical fantasy while awaiting summer to unfold.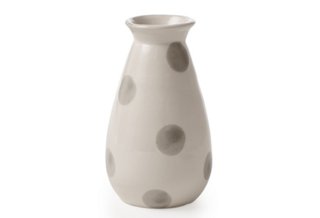 Jolie Bud Vase, Limestone Dots
from: One Kings Lane
You don't have to be Minnie to love a good polka dot. This limestone dotted vase is sweet and poised. Drop in some daisy's and instantly have a subtle taste of spring.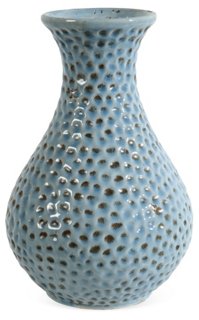 13″ Coastal Vase
from: One Kings Lane
This coastal vase is perfect for light woods or white cabinetry, blend your interior color patterns with silver, metals, and light pastels for a rustic yet youthful approach.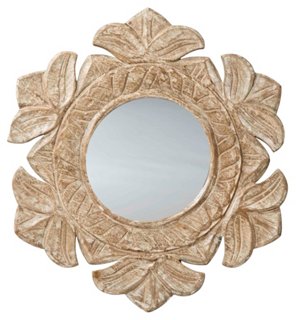 Kendall Floral Frame Mirror
from: One Kings Lane
This mirror is one for the fairest of them all. While nothing is more spring than a fresh bouquet this mirror will jazz up your home without being too feminine for the hubby.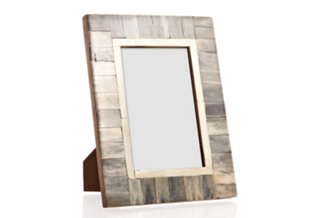 Slate Gray Bone Frame, 4×6
from: One Kings Lane
Elegant yet classy this is a great piece (or two) for a bachelor pad. Place on your espresso book case and frame with scenic photos from your last trip to Bali.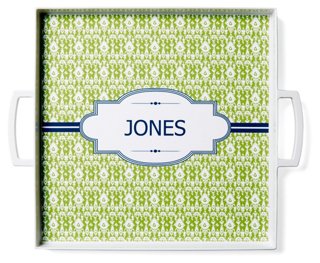 Serving Tray, Moss & Regal Blue
from: One Kings Lane

For those with kids, a spunky serving tray is  a sweet look for mommy play dates with your favorite macaroons and cup of Jo.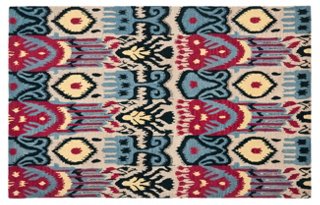 6'x6′ Crane Ikat Rug, Cream/Multi
from: One Kings Lane

Ah yes, Ikat. This hefty print is bold and rich, with tribal and blended textures being all the rage this season. Whether you prefer it in your living room or entry way, make sure to add solid pieces with similar color hues to make this rug your first look.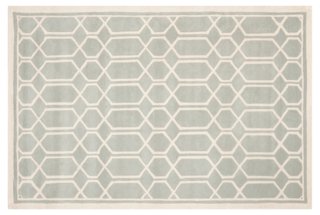 Caelan Rug, Gray/Ivory
from: One Kings Lane
Mature and retro is this gray and ivory rug reminscent of old Hollywood in the 1960's. A modest purchase makes for a timeless treasure, so splurge on this piece for your lounge or bedroom.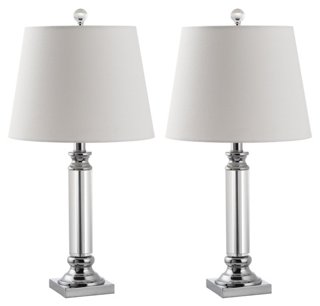 Zara Crystal Table Lamp Set
from: One Kings Lane
The crystal lamp is versatile and chic. Whether used for multiple spaces like home office and bedside table, you can't go wrong with white shades and glass.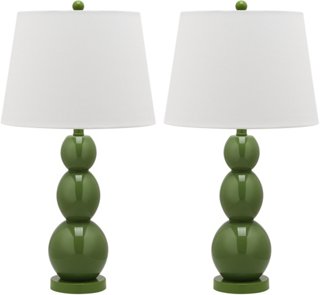 Brent Table Lamp Set, Fern Green
from: One Kings Lane
Delightful in any room, these brent table lamps are all the trend. Place width apart from each other and go ahead and mix patterns and colors to make your room go green for spring!