Here on the west coast, we're in that awkward time between winter and spring. It's warming up, the sun is shining, but there's still a little chill in the air. That's why when I saw Ashley Tisdale's recent California laid-back-cool spring outfit, I knew I had to recreate it. The flannel around her waist is cute and functional should a chill hit, but her gladiator sandals make a strong Spring statement. But then I saw the price. Head to toe, Ashely's outfit cost $40,203, and that doesn't even include all of the accessories. Ouch!
In defense of that price tag, the Rolex watch was $34,350 of it, but regardless, most women can't fathom spending over $2,000 for the Yves Saint Laurent sandals or $3,000 on the Celine bag. When it comes to fashion, being budget conscious is important to me, especially on trendy pieces that could quickly be out of style. So that's when I set off to find similar pieces that would give me Ashley's casual-cool California vibe without breaking the bank.
Looks for Less: Ashely Tisdale's California-Cool Outfit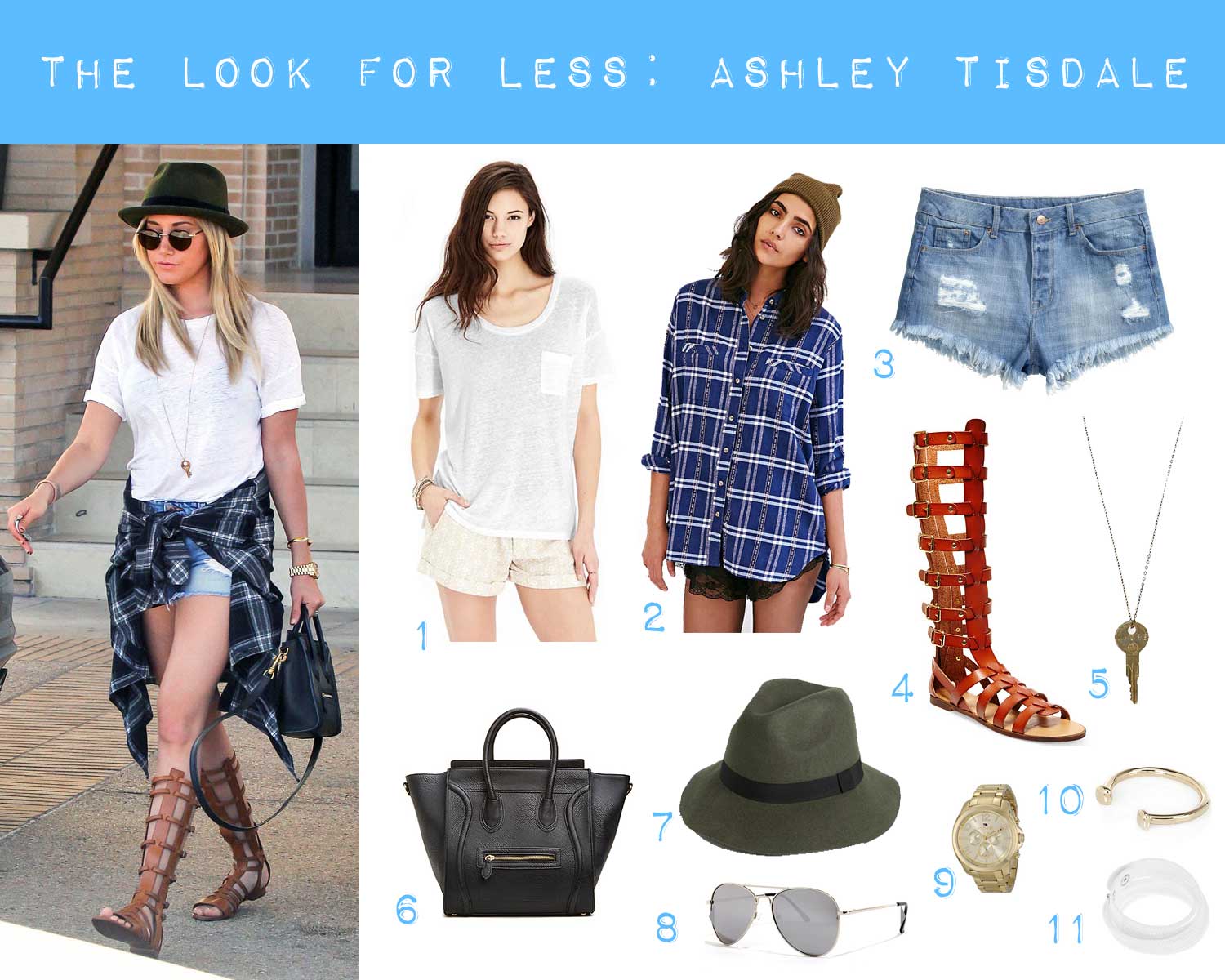 Ashley Tisdale Photo Credit: Bauer-Griffin/GC Images
1 Old Navy Boyfriend Tee, $17 / 2 BDG Obie Flannel, $30 / 3 H&M Distressed Denim Shorts, $25 / 4 Madden Girl "Penna" Sandals, $79 / 5 Giving Key Necklace (exact), $35 / 6 DailyLook Structured Handbag (available in Raspberry), $75 / 7 David & Young Felt Fedora, $14 / 8 Mirrored Aviator Sunglasses, $13 / 9 Tommy Hilfiger Gold Watch, $101 / 10 Gold Cuff Bracelet, $4 / 11 CARA Stone Accented Leather Wrap Bracelet, $10
Of course hitting up your local thrift or resale shop, or even grabbing existing items from your closet would bring the price down even more. My version of this entire look, including similar accessories, totals just over $400. At 1% of the original price tag of $40,000+, I'd say we're doing a bit better. 😉
About the Author: Jenn is a Seattle-based fashion and lifestyle blogger at hellorigby.com. She is also a crazy dog lady to her 2-year-old Shiba Inu, Rigby, who is the namesake of her blog.
Credits
By: Jenn from HelloRigby.com
Photos: Bauer-Griffin/GC Images